Conrad Forest Products is pleased to announce the addition of Woodway Products to our ever expanding lines of distribution.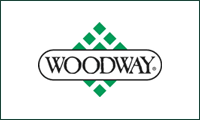 ---
Woodway produces a wide range of high quality wood building products that includes Lattice, Deckrail, Post Caps, Planking, Post Sleeve and EZ Rail. These well designed wood products are not only durable and beautiful but easy to install.
Lattice
Woodway lattice is available in Clear No. 1 and Better grades in Western Red Cedar, Redwood, Mahogany and ACQ treated Hem-Fir. Lattice panels are available in 4' x 8', 2' x 8', and 1' x 8' sizes. Regular lattice thickness measures nominal 1/2" at lath intersections, while Heavy Duty lattice measures nominal 1". Woodway Lattice is the only commercial lattice produced based on the Western Wood Products Association Lath Grading Rules. Custom panel sizes, spacing, specie and thicknesses are available by special order.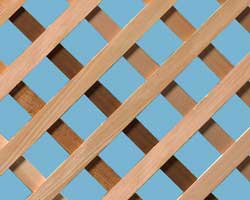 Diagonal Garden Lattice
60% shade, 2.5" nominal opening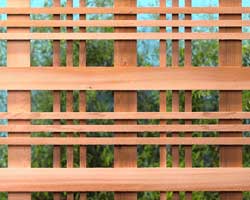 Catalina Garden Lattice
71% shade factor
Lattice Construction
Woodway Lattice is opposed-angle stapled for maximum wood-holding contact, and the angle is reversed at alternate lath intersections. Staples in Clear grades are glue-coated aluminum; all other grades use 18 gauge electroplated galvanized and glue-coated steel fasteners to resist rust and improve holding power.
Fasteners are set flush or slightly countersunk parallel to the wood grain and their points do not protrude through the face. In addition, all 4' wide panels are glued along at least 4 joint lines with industrial adhesive to improve panel integrity and strength.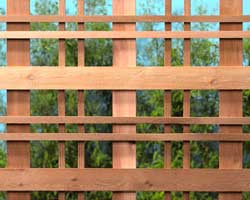 Monterey Garden Lattice
61% shade factor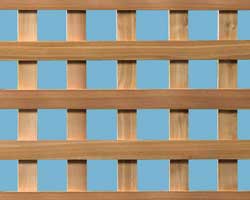 Square Garden Lattice
50% shade, 2.5" nominal opening
Patterns and Spacing
No job or application is ever the same. Spacing needs, lighting control and design preferences vary from project to project. Whether you need privacy or garden spacing in square or diagonal design, Woodway Lattice has you covered.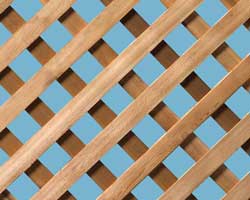 Privacy Diagonal Lattice
70% shade, 1.75" nominal opening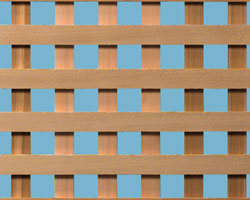 Privacy Square Lattice
70% shade, 1.75" nominal opening
Woodway Lattice is available in privacy spacing (70% shade, 1.75" nominal openings) and garden spacing (50% shade in square pattern; 60% shade in diagonal pattern, 2.5" nominal openings).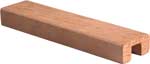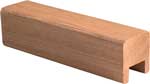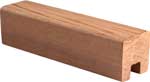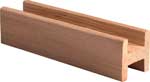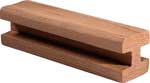 Mouldings
Mouldings are made to match the species and quality of Woodway Lattice and to provide handsome framing for your lattice project.
They are available in 8 foot lengths in five different patterns to fit either Heavy Duty or Regular lattice. Cap mouldings, frame mouldings and divider mouldings are available for Regular lattice. For Heavy Duty lattice, cap and divider mouldings are available.
Woodway Deckrail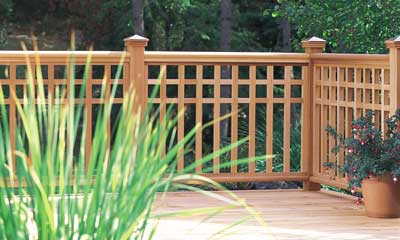 Constructed of nominal 2" x 2" clear, kiln-dried Western Red Cedar, Mahogany or two-coat Primed and are pre-assembled using mortise and tenon joinery for strength and durability.
Available in lengths to fit between posts measured on center at 4', 6' and 8', panels can easily be cut on the job site to fit any post spacing.
Panels are manufactured to fit standard residential and commercial rail heights of 36" and 42".
Woodway's own stainless steel lag eye rail fasteners make assembly easy.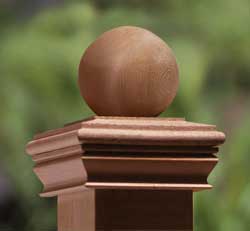 Post Caps
Woodway Classic Post Caps add a decorative touch to fence, railing and mailbox posts while shielding the post tops from the elements. Woodway's sturdy, handsome post caps capture the design sophistication and attention to detail that exemplifies classic American architecture.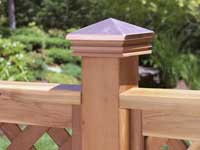 Choose from stylish copper-clad designs in natural and verdigris patina or all wood designs in a variety of styles. Woodway Classic Post Caps are available in premium grade, kiln-dried Western Red Cedar, Redwood, and Mahogany.
And, they are built to last. Woodway constructs its post caps from blocks and trim skirts that are precision-molded for exacting uniformity. The all-wood caps use rabbeted joinery for connecting the post cap skirt to the block that provides exceptional strength and durability. Woodway Classic Post Caps are constructed using advanced, waterproof adhesives, which means no marks or discoloration from rusty fasteners.
* Woodway Classic Post Caps are available in sizes to fit 4" x 4", 5" x 5" and 6" x 6" posts.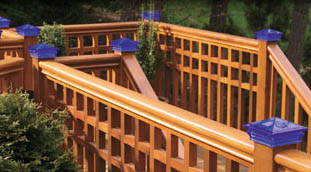 Glass Post Caps
Add color to your yard and garden with the radiant beauty of real glass. Woodway Glass Post Caps add elegance to deck, porch or fence posts - even raised garden-bed posts. Available in four classic glass colors, you can find a shade to match any outdoor look. These stunning glass post caps lend design sophistication and colorful appeal to your outdoor living space.
Woodway Glass Post Caps, made of real glass, lend an elegant and superior finish to your outdoor projects, while protecting post tops from the damaging effects of weather. The heavy-duty glass post caps are designed to be durable and provide colorful beauty for years to come.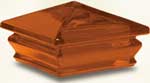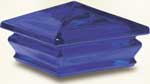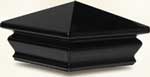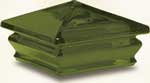 Available in Cobalt Blue, Amber, Olive Green or Black, each glass, pyramid-shaped post cap will fit a standard sized 4" x 4" and 6" x 6" post. Match the post caps to the outdoor living décor to complement your garden or home.
Planking
Solid wood planking from Woodway is the choice of serious professionals and homeowners alike. Every single piece in our generous range of species and sizes is hand-inspected for quality and color. Woodway Products

Woodway has a complete range of wood species and price levels to suit a wide variety of needs and decor. There are double bead faces and smooth faces in certain species. Choose from Pine, Cedar, Redwood, Alder, Oak and Aromatic Cedar. Planking comes in 100% 8 ft. lengths and random lengths. Pine and Oak are also available in Wainscot. A wainscot trim kit complements the Wainscot planks. All panels are 5/16" thick by 3 1/2" nominal width, tongue and groove. Most packages have 14 sq. ft. of surface area.
Post Sleeves
Quick Clad Post Sleeves are designed to quickly upgrade the appearance of posts and railings with a professional, finished look. Choose from either Western Red Cedar or Mahogany Quick Clad Post Sleeves. Quick Clad Post Sleeves are already assembled and cut to length for residential and commercial rail heights.
Each Woodway Quick Clad Post Sleeve comes fully assembled and individually cartoned with pre-cut base molding included. Installation couldn't be easier. Simply remove the post sleeve from the carton, slip over existing post, shim the bottom and top and you're ready to add the precut base molding and the post cap style of your choice.
Installation Steps

Remove Quick
Clad from carton

Slip over
existing post

Shim bottom
of post

Shim top of post

Assemble base
moulding

Secure Woodway
post cap
The quick shim system makes it easy to correct out-of-plumb and misaligned posts.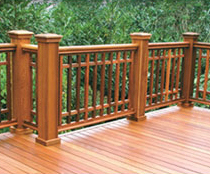 EZ Rail
Imagine beautiful deck rails installed in minutes instead of hours. Created with Woodway's celebrated craftsmanship, EZ Rail is the new productivity solution for contractors.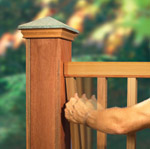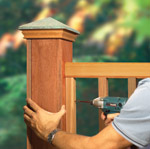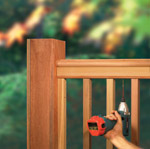 Each pre-assembled EZ RAIL Deck Rail system comes with one 6' or 8' residential height, code-compliant section with a separate, matching top rail. Simply trim to fit your required length. All hardware is included.
EZ Rail is designed to cut labor costs and increase profits. It installs in minutes right out of the box, leaving more time for more jobs. You get millwork quality at a site-built cost. It doesn't require highly skilled labor, so you can use your best carpenters for the tough stuff.
Stair Rails
The versatile EZ Rail Stair Rail System adjusts to any stair pitch in seconds. Simply align the bottom rail parallel with the existing stair pitch, trim to fit, and the EZ Rail System is ready to attach. It just doesn't get any easier than this.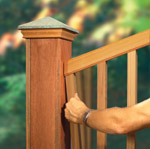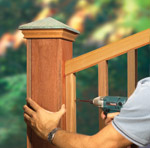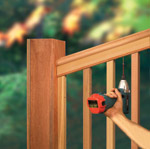 EZ Rail Stair Rails are made from premium Western Cedar or Mahogany, molded smooth and ready to paint or stain. Stair Rails are pre-assembled and comes with all required hardware.
If you would like more information or would like to become a Woodway Products Dealer or to find a dealer in your area, please contact us.