Conrad Lumber Company introduces "instant post holes" with no digging!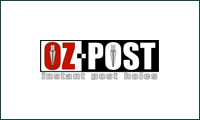 ---
What is an Oz-Post™?
The Oz-Post™ Support System is a modern building product that improves, simplifies and speeds up the process of securing a post to the ground. The Oz-Post™ is a heavy gauge galva­nized steel spike that is driven into the ground with a jackhammer. Oz-Posts™ patented designs are intended to REPLACE the use of concrete to secure your posts.
Instant Post Holes!
Digging and concreting post holes are both time consuming and messy. There is a better way. It's called Oz-Post™! With Oz-Post™ you can stop wasting time digging holes and mixing concrete. Just drive Oz-Post™ into the ground with a jackhammer and attach your posts. Oz-Post™ is fast, clean and built to last.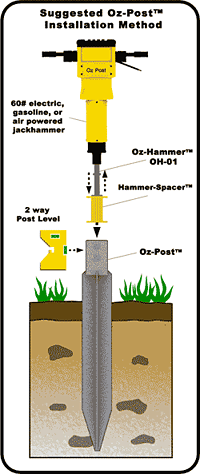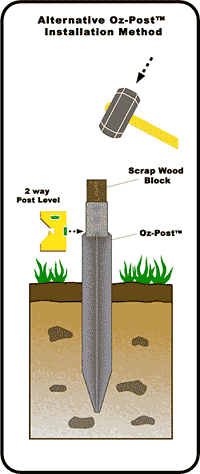 How do they work?
The Oz-Post™ becomes an extension of the jackhammer and uses its destructive vibrations to penetrate the ground beneath it. After the Oz-Post™ has been installed, its large fins "grab" the surrounding terrain, therefore, stabiliz­ing the post. With an installation time of 1 minute, Oz-Post™ has taken the labor and guesswork out of installing posts!
Why use Oz-Post™?
No digging or concreting required
One person installation in minutes
Easily driven into clay, roots, asphalt, and soil
Tested to be stronger than concrete!
Over 2,000,000 units in use
Removable and reusable
Wooden posts won't rot
Posts don't have to be as long
Less expensive
Clean - no need to remove soil
25 year warranty
Start uilding immediately - no waiting for concrete to set
Clean
When you use the Oz-Post™ System there is no dirt to haul away or concrete to mix. Landscap­ing, trees and grass can be adversely affected by the equipment and additional foot traffic required to install a post with traditional methods. The dirt, dust and mess created by digging holes and mixing concrete are completely eliminated with the Oz-Post™ System. You won't have to wait weeks for grass and landscaping to recover from your construction project if you use the Oz-Post™ System.
Removal of the Oz-Post™ leaves a small ''X'' in the ground which will disappear after the first rainfall. The extracted Oz-Post™ can be re-used repeatedly in many different locations.
Reusable
Oz-Posts™ are made with the finest materials and protected with a durable galvanized finish. If post replacement becomes necessary, the Oz-Post™ can easily be reused in its current loca­tion or be recycled and installed somewhere else! Removing a post supported with the Oz-Post™ System is also quick and easy. Just release the attachment hardware and pull the post out.
Strong
Oz-Posts™ can be driven into all kinds of soil conditions like rock, stone, asphalt, concrete, clay, compacted sand, and frozen ground. Once installed to a typical depth of 34", the thick metal fins and heavy duty sleeve provide the same strength as a post installed in a 6"-8" post hole with concrete.
Oz-Posts™ are used everywhere!
Fencing, signs, decks, utility markers, road signs, construction fences, arbors, retaining walls, flag poles, sheds, post repair, clothes lines, mail boxes, bird houses, playgrounds, and much more.
Description:
Oz-Post™ is a four finned, harpoon-like spear manufac­tured from 2mm and 3mm hot dipped galvanized, high grade steel which is simply driven into the ground with a jackhammer. The Oz-Post™ is a post anchor for use when erecting all types of fences, sign posts or decks.
Application & Uses:
The Oz-post™ is suitable for steel, wood and plastic posts. Many round, square, and rectangular cross sections can be accommodated. Projects like: Permanent Fencing, Temporary Fencing, Mail Boxes, Clothes Lines, Tree/Shrub supports, Playground Equipment, Wood fences, Chain Mesh Fences, Street Sign posts, Open Pergolas, Signs, and Decks. Oz-Post™ may be used in any situation were there is no potential for wind up-lift loading from a roof structure, or where the subsoil is stable in nature.
Features & Benefits:
Oz-Post™ represents both a change and advance in the concept of ground supports not seen for many years. Oz-Posts™ are fully retrievable and reusable allowing structures to be moved with no capital waste. As a result, the Oz-Post™ can be used as both a permanent or temporary post installation system. On insertion and removal there is little or no environmental impact and wood posts are protected from rot caused by soil and moisture.
An Oz-Post™ can quickly be installed by only one person. The dramatic time savings compared to traditional meth­ods will provide for a cost reduction and significant improvements in labor efficiency.
When using Oz-Post™ the posts can be up to 36" (850mm) shorter than what would be used with traditional post securing methods. No concrete is required and the large surface area of the fins gives maximum contact with the surrounding soil resulting in excellent grip and stability. The Oz-Post™ is suitable for most common post cross sections including round, square and rectangle. The post housing is manufactured to allow water run-off to help prevent wood from rotting.
Environmental Impact:
Oz-Posts™ are removable and reusable and when extracted only leave a tiny cross shaped hole which quickly disappears as the soil closes in naturally. Compare this to the huge boulder sized hole left when extracting a post that has been installed using concrete. Since there is no need to bury the posts, they may be shorter in length, therefore, saving valuable resources. The life of an Oz­-Post™ far exceeds that of timber in a subterranean application, again representing a savings of valuable resources. Oz-Post's™ can also be recycled.
Regulations:
There are various local authority planning and building regulations that relate to the installation of fencing, decks and sign posts. Compliance with such regulations is required. Post positioning when fences are aligned to boundaries should be ascertained prior to installing Oz-Post™. While the Oz-Post™ is removable, it will save time and energy if the Oz-Post™ is positioned correctly. Local cities have various regulations regarding the placement of signs on public and private property. Be sure to check with these regulations before installing your sign posts.
Utilities:
As with any underground work that you do, you must call all utility companies to mark the underground utilities before you drive the Oz-Post™ into the ground. Costly repairs, serious injury or death could occur if the Oz-Post™ is driven into any kind of utility.
Certification & Testing:
Oz-Post™ has been used by many government depart­ments since 1993 and has under-gone crash and strength testing. These tests and approvals have been carried out independently by Government departments and the Department of Civil Engineering at the University of Queensland, which is a NATA accredited testing facility. Complete testing results are available upon request, or see our internet site www.oz-post.com to request more data. With over 2 million in use you can be assured that Oz-Post™ has performed well in all kinds of terrain and different applications.
Warranty:
Oz-Post™ warranty extends to 25 years from the date of original purchase and is non-transferable. The warranty is valid where the soil has a normal pH of between 4 & 6. The warranty is limited to the cost of replacement of the Oz-Post™. Cost of installation or costs associated with materials used in conjunction with the Oz-Post™ are not the responsibility of Oz-Post™. For the warranty to be valid the correct installation procedures need to be adhered to. Change in soil conditions due to change in environment (natural or manufactured) that adversely effect the performance of Oz-Post™ are not the responsi­bility of Oz-Post™ and as a result under these conditions the warranty will be void.
Caution:
Use safety boots, work gloves and safety goggles when installing Oz-Posts™ and removing posts using the Oz-Puller™
More Information